Home Retailers March 1, 2021
The five home design pitfalls a 3D planning solution can help your customers avoid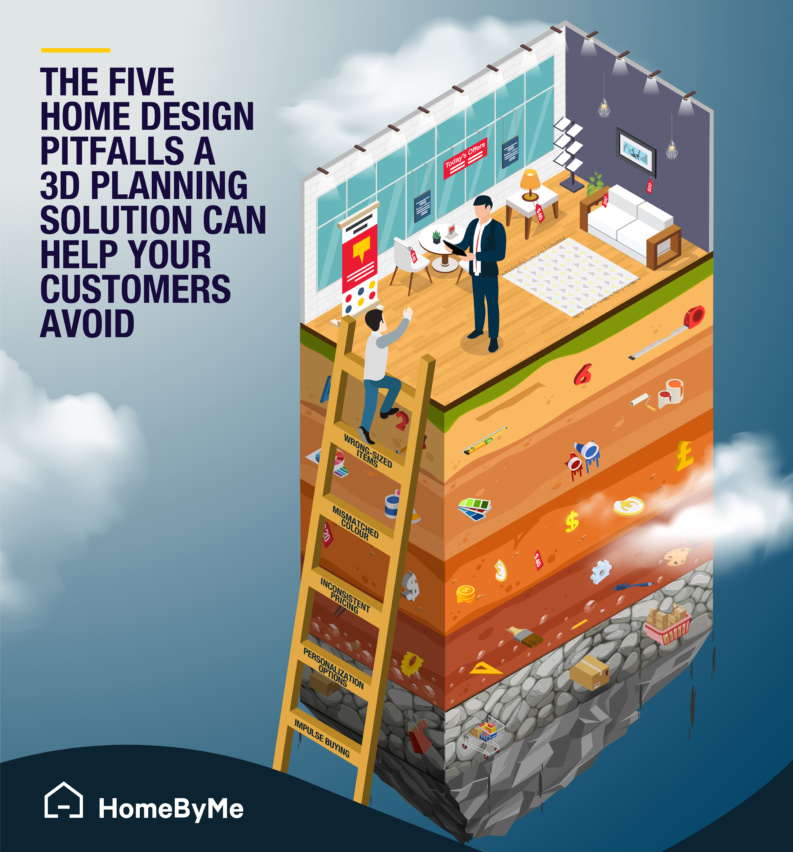 An online design and shopping experience enables consumers to make more informed decisions, minimize post-purchase regret and avoid bill shock.
There is always a degree of uncertainty between design and reality in home décor – consumers' visions of their dream homes unfortunately don't always translate into reality. And by that, we don't just mean the comically bad design decisions that we all come to regret – think the infamous avocado bathroom of the 90s – but rather those home furnishing purchases that simply do not live up to what was expected. For retailers, this challenge is all the more pertinent with the rise of online orders.
No one wants to purchase what looks like their dream sofa on the website, only to realize that not only does it not match up with the rest of the room, but that it doesn't even fit. The result: a deflated customer and a quick return. In fact, 51% of online customers believe the biggest drawback to online shopping is not being able to experience the product in person.
The truth is, an online design and shopping experience can actually enable consumers to make more informed decisions, minimize post-purchase regret and avoid bill shock. This article analyzes the major pitfalls that consumers report when redesigning their home, and how these can be avoided with a 3D planning solution like HomeByMe for Home Retailers.
Wrong-sized items
This year, 66% of online customers reportedly returned an item they bought online because it was the wrong size. Most retail customers dread breaking out the tape measure over and over again to check that each and every item they like the look for will fit in their home space. It's time-consuming, fraught with errors and, depending on room layout, overly complex. And traveling to a store to check the dimensions adds to the complexity.
With the right 3D planning solution, customers only have to input their room dimensions once to create an exact replica of their room. This way, they can place and visualize their chosen sofa, dining table, or TV stand, and ensure a perfect fit. In doing so, they significantly reduce the risk of a product not looking right when installed, thus cutting returns for the retailer, while increasing satisfaction and brand loyalty. This holistic view of the room also allows customers to spot any gaps in their spaces where they may need another item – which can be the perfect opportunity for cross-selling and upselling.
Mismatched color schemes
Customers might have found a contemporary sofa or stylish dining table set that they love, but what about colors? Will they match the rest of the furniture? Or go with the wallpaper? One item of furniture can change the look of the entire room, and if it's wrong, this can lead to returned orders and worse – no one wants to go back to the drawing board!
The designs customers create using the HomeByMe for Home Retailers 3D planning solution allow them to see their rooms holistically in true color and high-resolution, with the ability to change the colors of their walls and floors until it is just right, and then populate the room with items. Customers can mix and match items, moving everything around until they have a crystal-clear picture of what their chosen home furnishings will look like in reality. The solution can further help this process by matching and recommending product sets to inspire and offer up alternatives and additional items to help customers plan their room design to perfection.
Inconsistent or ambiguous pricing
Despite the increase in online shopping, customers remain cautious spenders. In fact, 87% of customers complete research online and compare other sites before making a purchasing decision.
Customers who get to the checkout and discover they are over budget are more likely to abandon the purchase with dissatisfaction. 60% of cart abandonment is driven by pricing discrepancy at checkout, showing a clear need for retailers to offer users consistent pricing throughout the customer journey.
3D planning solutions can integrate seamlessly with backend systems to offer transparent real-time pricing, which is updated every time a consumer adds or removes something from their room designs. This way, customers always know exactly how much they are spending (including promotional offers), so that they can remain within budget – meaning no nasty surprises or reasons to abandon their purchase.
Personalization options
Customers notice the little details when visiting your website or high-street store, even if these are only subconsciously. So, by enabling them to customize and stamp their own personal brand on items and designs will make the shopping experience more personalized – increasing satisfaction and engagement with your brand.
With the HomeByMe for Home Retailers 3D planning solution, customers can see every detail of items placed in their room designs, such as door handles, shelves and even the insides of cupboards and drawers. These small but important details all help to delight customers and move them closer to purchase. Users can even view their room designs in different lighting settings, further enhancing this tailor-made customer journey.
Impulse buying items
88% of buyers have rushed a purchase decision, leading to post-purchase dissonance; and for big-ticket items, such as sofas or dining tables, this regret is magnified if the item doesn't fit or is the wrong color.
Providing customers with advanced features such as pre-made templates, consistent pricing throughout the design process, and in-depth customization – right down to wall color and door handle design – are ways to minimize the risk associated with impulse purchases. Furthermore, letting customers download and share high-resolution renders of their designs with their friends and family online helps shoppers receive validation of purchasing decisions, and ultimately helps them confidently cross the purchasing finish line.
Conclusion
To avoid these common online design and e-commerce pitfalls, home retailers need to provide customers with all the tools they require to make confident, informed purchasing decisions. The winning combination involves both transparent pricing and accurate design, which can be achieved with the HomeByMe for Home Retailers 3D planning solution. Delight shoppers with a personalized experience, boost loyalty to your brand and increase revenue with an engaging, market-leading online experience.
Get in touch to find out how the HomeByMe for Home Retailers 3D planning solution can help your customers avoid common pitfalls of home redesign.