Kitchen Retailers January 10, 2022
How kitchen retailers can harness online insight to optimize in-store layout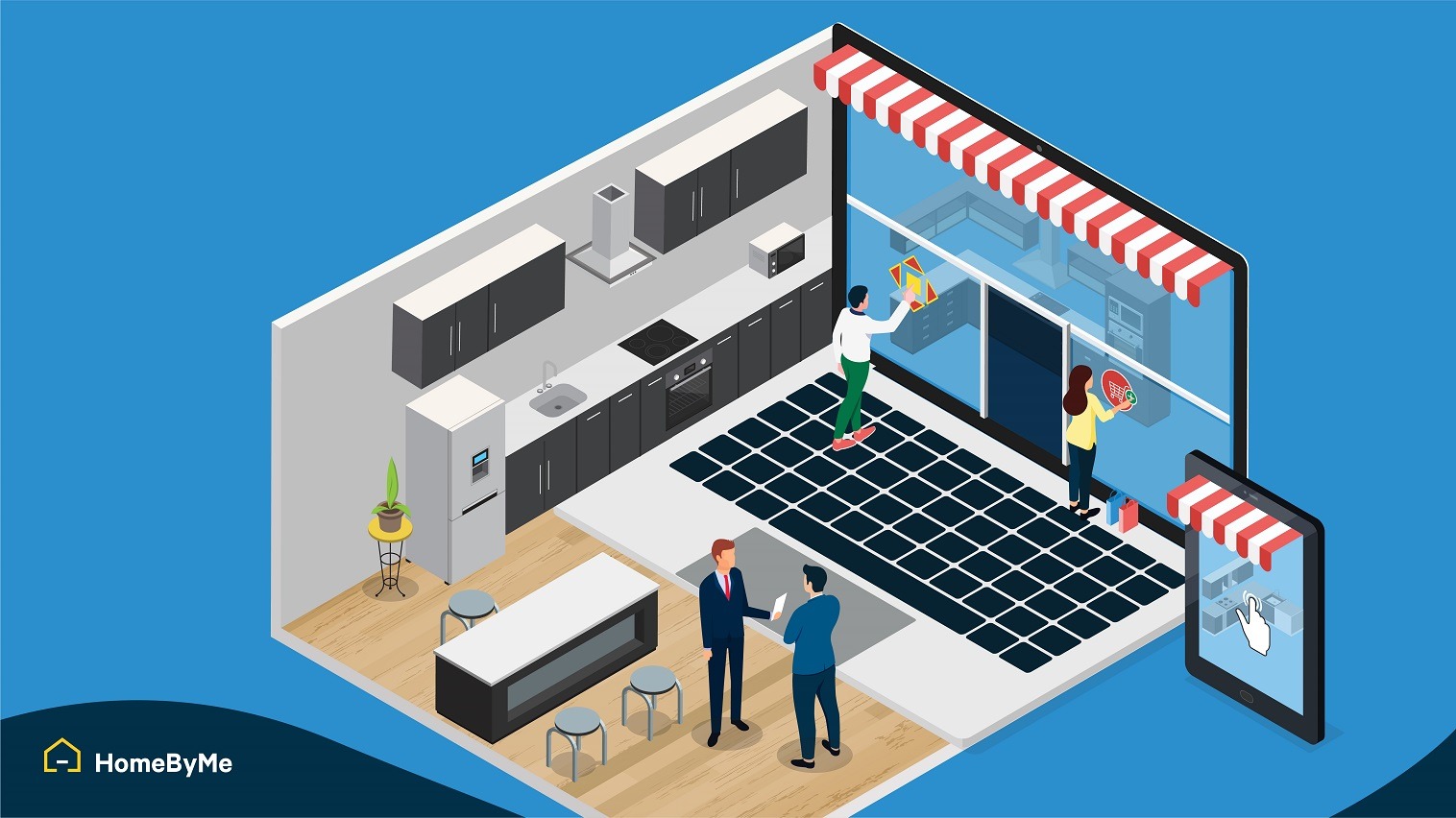 In the world of digital e-commerce, there's still room for traditional brick-and-mortar stores. Here's how a 3D planning solution can help.
In an age of digital transformation, brick-and-mortar stores remain an important channel for retailers, with 79% of consumers believing there will always be a role for the in-store experience. For kitchen retailers in particular, the in-store experience is critical to the customer purchasing journey. In the case of such high value, complex purchases, many consumers still want to touch and feel the products that interest them, and see them up close. Not only that but they want to build trust and collaboration with their retailer of choice, relying on sales professionals to help validate ideas and turn them into a reality. 
Of course, that is not to say kitchen retailers can afford to overlook their online presence as a result. Far from it. With so many customers looking to start the planning process at home, kitchen retailers need an online presence to increase engagement and help drive traffic both to the website and  store. An omnichannel 3D planning solution, such as HomeByMe for Kitchen Retailers, can help deliver the seamless brand experience consumers crave – from researching and experimenting with design at home, to hitting the store to finalize their designs and purchases, or even completing this back online.
While catering to customers' omnichannel expectations in this way, kitchen retailers can also tap into a wealth of insight into their design and purchase preferences – data that can be used in several ways to not only influence and improve the online offering, but the design and layout of the showroom, too. In doing so, kitchen retailers can ensure a continuous brand experience, along with the best possible showroom layout to attract and retain customers, convert sales and drive loyalty. 
Take these three areas of focus as examples: 
#1 Store layout 
Deploying an effective 3D planning solution online enables kitchen retailers to mirror buying trends in their brick-and-mortar stores to offer a seamless brand experience. With 65% of consumers wanting to see products in person before making a purchase, retailers can address this by making sure the right 'hero' products, based on online transactions, are available for trialing in-store. Not only does this ensure appeal to the largest cross section of customers, it can accurately influence operational decisions like purchasing and merchandising, with each new kitchen that's designed on a 3D platform providing insight into future market trends and style choices.
#2 Concept kitchens 
Concept kitchens are essential to offering the visceral experience many customers still look for by visiting products in-store; and, with an omnichannel 3D planning solution, creating these inspiring kitchen designs is now far simpler for retailers. Using need mapping and user preferences from the platform, best-selling kitchen designs are brought to the fore from data such as popular product lines and average shopping cart values. This information is invaluable in helping retailers grow their business and hone in on their customer base. Generating concept kitchens that align with what customers are looking for online also bridges the imagination gap for consumers, driving them further down the sales funnel and into store – one step closer towards making their dream kitchen a reality. 
#3 Customer experience
For a continuous brand experience to be effective, various commercial channels must be easy to engage with – for consumers and sales professionals alike. Consumers require a 3D planning solution to visualize design and layout, to automate proposal generation and to create life-like renders that they can share with friends and family. Sales professionals can use the same solutions in consultation with customers in-store for a truly effective omnichannel experience. By utilizing a 3D product catalog alongside integration with other systems such as CRM solutions, the customer and retailer can seamlessly collaborate on kitchen design projects at any time. This can be extended to the in-store customer experience kiosk that will allow customers to access their generated kitchen designs by simply logging in and continuing to amend and finalize their design with the advice of a sales professional. 
Conclusion
A successful omnichannel offering is reliant upon more than a seamless purchase journey. Customers also want a continuous brand experience. This is especially important for the sale of long lead, big ticket items such as kitchens, where multichannel consultation is now the norm. In an age of digital transformation, a retailer's products, its operations and processes must all work towards consistency – and intercommunication – across touchpoints if they are to compete on standout customer service. But that's not all. For kitchen retailers to truly maximize the omnichannel opportunity, they must act on its outputs – and these are just as applicable in-store as they are online. With the right 3D planning solution, kitchen retailers can leverage insight into online customer interactions to optimize the showroom, increase footfall and, ultimately, drive sales.